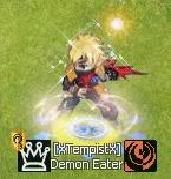 Extreme Veteran

Posts: 404


Location: Cursed Doom Tower
lch - 8/3/2010 1:16 PM

yep :P dont worry one by one.

but if u send a ticket in i think u might get risk of main getting banned like mine. i wonder if my abel necklace and stuff expired already... =.=



I sent one in over a week ago and no ban so idk. I want my freakin' spirit and I can't because of this ****** bs. After I exchange these coins. Only money they will see from me is extension stone money. Sorry ndoors but you guys pissed me off good here. No more $200+ for you guys from me per month no more.