Regular

Posts: 80


Location: I am located over here
I just bought 12 Strenght up crystals from item mall and have compoded 3 of them in two made rings I am currently using and 5 in one unsealed ring. So right now I should have +6 str coming from rings, but for some reason, its not showing in my status info. It shows 34 str (24 from Pearl A crystal, 10 from Red Salmon Kite) from equipment, when it should be 40. Is this some bug, or am I just not doing something right here? 12 crystals at 240 G coin each is $28.80!!! Maybe I'm just dumb for buying the things, but I just wanted to try them out. On the other hand, Luck and Vitality up crystals work fine. The rings I'm using are Ring of Abundance and Ring of Master. Can someone tell me whats going on, and if this is a glitch, can I be refunded my G coin back or something? Some help would be greatly appreciated. Also, a guide on how to use these IM crystals with the new Avatar items we have would be helpfull.

Regular

Posts: 80


Location: I am located over here
I guess they don't stack with the strength up crystals, but they do with the vit and luck up. Right now I am using 2 Rings of Master with +10 Vitality and Luck on each. Both can be seen on my status info window, but for some reason, the strength does not. One ring has +10 Strength, the other has +2. I have a Pearl A crystal on one of my armor parts that adds vitality as well, and it is stacking perfectly with my rings. My one problem is the strength that doesn't show up at all. I hope a GM will reply and shine some light on this.

Regular

Posts: 80


Location: I am located over here
I didn't want to do this, cuz it's a h***le to crop and upload images, but here are the equipments I have on that add str, vit, and luck.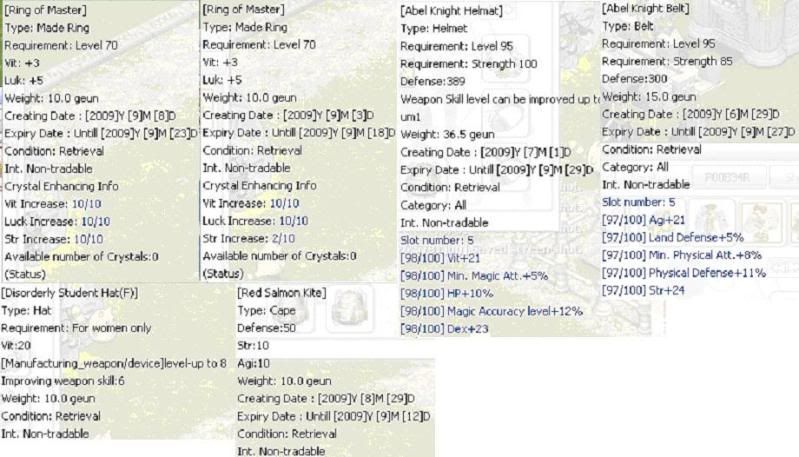 So... if you add all the stats in question up, I should have 46 str, 67 vit, and 30 luck added by equipment.

Here you see my stat distibution of my str, vit, and luck respectively.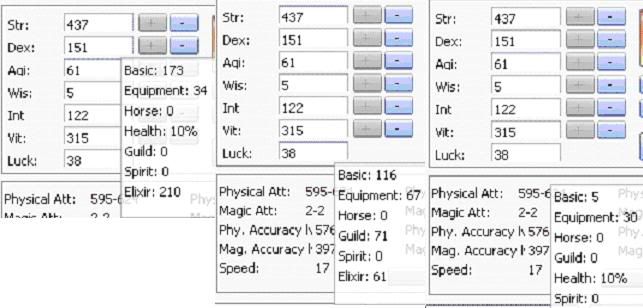 As you can see, I only have 34 str added, but vit and luck are as they should be. The 12 str from the the avatar crystals are not stacking, but the 47 vit and 30 luck from all crystals stack up nicely.

So can someone please get to the bottom of this? These rings don't last forever, and I wasted money on Strength Up crystals that don't work.



Edited by Love 9/9/2009 3:09 AM




Regular

Posts: 80


Location: I am located over here
Thanks pew. I did what u said and took off my cape and belt, and sure enough, the rings added the 12 str from the their crystals. I put on the cape and it also stacked. However, when I put on the belt, the str from the rings disapear and all I see is the 34 str from the belt and cape. Still, its too bad the str doesnt stack but the vit does. Can a GM please come in and give me his/her statements on this matter?