Extreme Veteran

Posts: 480

I agree there is absolutely no leadership coming from the S9 GoonZu. Only demands and rule breaking. At this rate if we use the phrase "lead by example", players should be able to use foul language, har*** each other, and acct share without the fear of being banned CUZ Warter did it and NOTHING happened.

"irresponsible" thats an understatement



Edited by Tr0my 11/5/2009 6:41 PM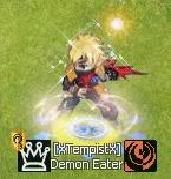 Extreme Veteran

Posts: 404


Location: Cursed Doom Tower
Tr0my - 11/5/2009 8:39 PM

I agree there is absolutely no leadership coming from the S9 GoonZu. Only demands and rule breaking. At this rate if we use the phrase "lead by example", players should be able to use foul language, har*** each other, and acct share without the fear of being banned CUZ Warter did it and NOTHING happened.

"irresponsible" thats an understatement



You tell 'em baby!