You can download Luminary through the VFUN Launcher.
*System Requirements

Minimum specification to run the GoonZu game;

- OS: Windows 98SE/ME/2000/XP
- CPU: P3-800Mhz (Min) P4-2.0Ghz (Recommended)
- RAM: 256M (Min) 512M (Recommended)
- VGA: Video Card with at least 8MB DirectX 3D Accelerator
- SOUND: DirectSound Compatible
- HDD: 1GB(Min)
- Other: DirectX 8.0(Min)/9.0(Recommended)
- Browser: Latest MS Internet Explorer
2. Installation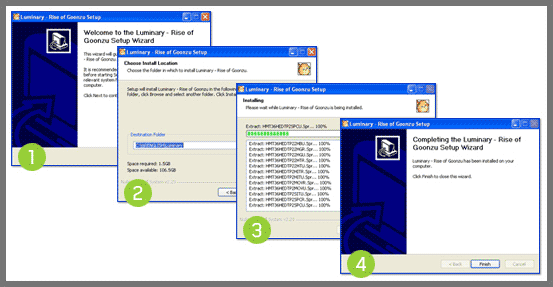 After Installation is completed, Click the "Finish" button. If there is a patch, the patch file will be downloaded and installed automatically. After the patch is completed, click on the "Start" button to start Luminary online.
1) After you pass the member authorization procedure, the Choose Server Window opens.


2) Choose the server that you want to play and double-click on the server.
1) Click "Create" button.

2) Enter a Character name you want and choose a character.
1) Press (ALT+T) to open the Mentor Window

*A Mentor is player who wishes to guide you through the game when you have questions.

2) Click on a name in the list and click Choose Mentor

3) Once you choose a mentor, you will be his/her apprentice.
5. Get Your Quests from Various NPCs
The first NPC you will encounter is Sarah Spencer.
She can be found right after you arrive in Hanyang Castle.

Talk to Sarah Spencer for your first quest. She will offer you some basic tips and strategies about the game.

Completing Quests from various NPCs will not only entertain you, but also offer you experience points and various rewards.