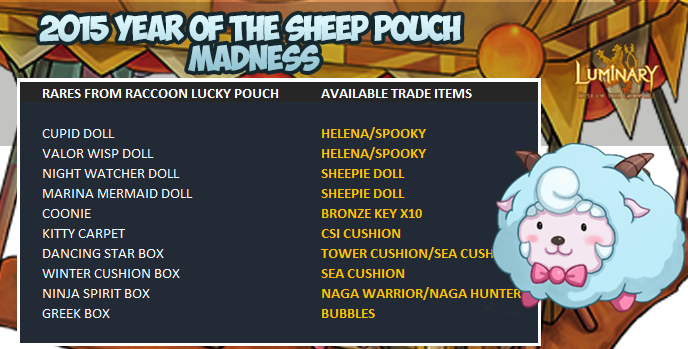 SHEEP POUCH MADNESS EVENT
(OLD RARE TRADE EVENT)
- Expect a bonus reward by getting the 2015 Year of the Sheep Pouch
- Show it to our GM's and be rewarded.
- Event duration: August 8 ? August 12 PST
[What to do?]
1. Once you get the 2015 Sheep Pouch you must inform our GM thru the official Facebook Fan Page of Luminary for verification.
2. One sheep pouch is equal to "1pc Raccoon Lucky Pouch".
3. Standard format of submission

IGN:
Date and Time on when did you get the Sheep pouch?
Important Notes*
- Our GM Team will conduct an investigation to verify your request.
- Only those players who will submit an entry within the schedule are eligible to get the reward.
1. Once the GM verify your entry, they will insert the Raccoon Lucky Pouch to your account (amount depends on the number of the Sheep Pouch you got during the event).
2. Once you the GM gave you the Raccoon Lucky Pouch, you can have an option to trade it to a higher grade item.
Note* You can trade the rare that you got from the Raccoon Lucky Pouch base on the list on the banner.